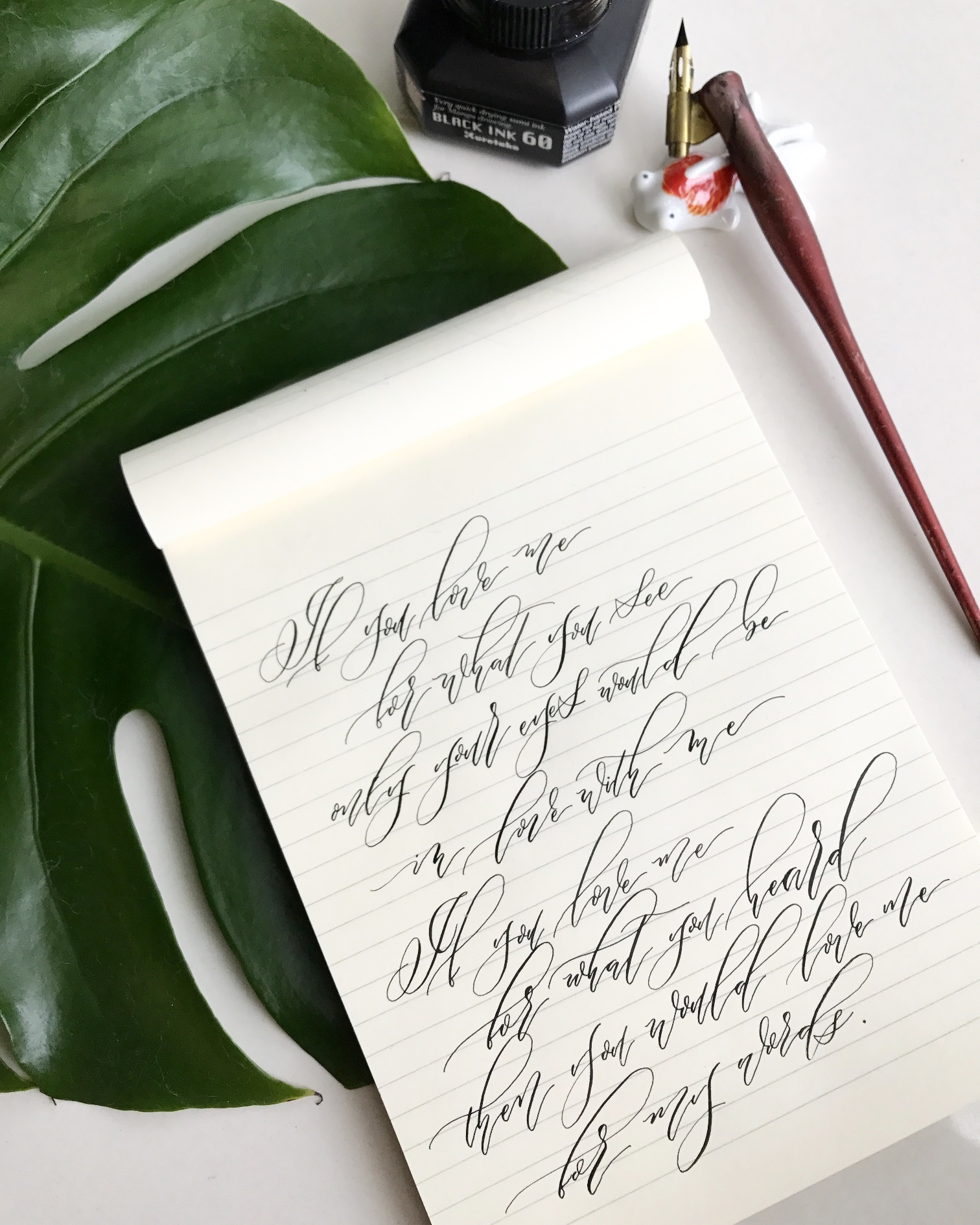 We spent the whole of 2016 teaching copperplate calligraphy classes and now we'd like to teach our students to explore different styles as well as help them to develop a personal style of calligraphy.
Join us for this fun and intimate class where you'll learn the basics of modern calligraphy. This class is designed especially for beginners and requires no prior experience in calligraphy. You will be guided on the fundamental steps of preparing your pen and nib for working with ink and other mediums; applying the right amount of pressure; how to correctly shape your letters; as well as developing your own lettering style.
You will also better understand the differences between traditional script and modern script, and begin to develop your own unique style. As an added bonus, we'll be playing with Finetec metallics too!
COURSE OUTLINE:
Basic Strokes
Lowercase letters
Uppercase letters
Variations In Script
Word Practice
Quote Writing (in your own style!)
THIS CLASS INCLUDES:
3 hours of guidance by two instructors
Take-home Curated Modern Pointed Pen Calligraphy Kit:
Worksheet booklet printed on Calirefontaine paper
1 x Straight Holder
1 x Oblique Holder
2 x Calligraphy Nib
1 x Pan of Finetec of your choice
Light drinks and refreshments
About the Instructors
Sharon and Joy are seekers of all things colourful, unique, and sometimes downright quirky! The both of us bonded over our love for uncovering beauty in our everyday lives. We've always been huge fans of calligraphy and lusted after beautiful lettering on Instagram. We finally decided to take the plunge and embark on a lettering journey together, and we've never looked back since.
Calligraphy is incredibly therapeutic to the both of us and we've loved creating beauty from watercolours and a pen. The journey into calligraphy and lettering has been amazing - we have learned so much more about each other, so much more about this traditional art form, and been welcomed into an amazing community of calligraphers - both local and abroad.
P.S. Follow them on instagram @joychong and @ronnycakes - yes they are kind of a big deal on IG! :)